WYKŁADY i WARSZTATY PREZYDENT AMEE- PROFESOR TRUDIE ROBERTS
---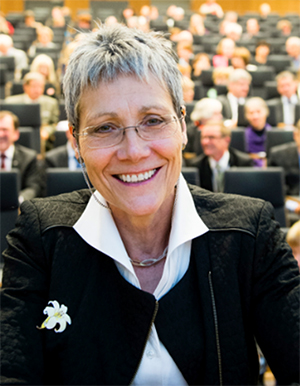 Centrum Edukacji Medycznej zaprasza pracowników i studentów naszego Uniwersytetu na zorganizowane w ramach programu CSM spotkania z Profesor Trudie Roberts – Prezydentem AMEE – Międzynarodowej Organizacji Edukacji Medycznej oraz Dyrektorem do spraw Edukacji Medycznej na Uniwersytecie w Leeds. Jest ona laureatką wielu nagród z zakresu edukacji medycznej, w przeszłości pełniła między innymi funkcję przewodniczącej ASME – Stowarzyszenia do Spraw Badań na Edukacją Medyczną, członka GMC – Naczelnej Rady Medycznej Wielkiej Brytanii oraz Cenzora Królewskiego Stowarzyszenia Lekarzy. Zainteresowania naukowe Profesor Roberts koncentrują się na problematyce egzaminowania w naukach medycznych oraz profesjonalizmie lekarskim.
W ramach wizyty na naszej uczelni Profesor Roberts poprowadzi następujące wykłady i warsztaty:

26 lipca- wtorek
9.30-10.40 wykład: Clinical Skills for the 21st Century
11.00-14.30 warsztaty: What are the clinical skills we need to teach medical students?
27 lipca- środa
9.00-10.00 wykład: Professional Integrity: Challenges and consequences
10.30- 15.30 warsztaty: Assessing Professionalism: the greatest challenge
(poniżej publikujemy oryginalne opisy powyższych sesji przesłane przez Profesor Roberts)
Lokalizacja: Centrum Dydaktyczne UMED, ul Pomorska 251
Telefon kontaktowy: 795 245 140
REJESTRACJA:
Prosimy o mailowe przesyłanie zgłoszeń na adres med-edu@umed.lodz.pl
Istnieje możliwość rejestrowania się na wybrane sesje.
Ze względu na ograniczoną liczbę miejsc na warsztatach (25 osób) obowiązywać będzie kolejność zgłoszeń.
OPISY SESJI
Lecture: Clinical Skills for the 21st Century
Although we continue to test our students, both undergraduate and postgraduate, in performing clinical examination skills which have been around for centuries; the way we will practice medicine in the future will be very different than how we have done this in the past. In this talk I will highlight the revolutionary influence that technology is having on healthcare delivery and why we need a similar revolution in what clinical skills we need to teach our students to equip them to provide the best medical care in the future.
Workshop: What are the clinical skills we need to teach medical students?
In this workshop we will examine what are the clinical skills that we need to teach our students so that they can work in a very changing environment. How will we deliver these and how can we support the acquisition of these skills. What is the role of simulation in supporting the development of these skills? Who should be involved in teaching the skills and how will we know if students have acquired them?
Lecture: Professional Integrity: Challenges and consequences
Cheating is commonly defined as breaking the rules to gain advantage. How common is cheating in medical school examinations? It probably occurs more frequently than we would like to think. Why do students do it and how do they justify it when found out? Is cheating more morally wrong in would-be doctors than in other students? Are some types of cheating worse than others? How can we expose this type of deception and how can we deter students from deciding to cheat in assessments. How blameless are Faculty when students cheat? Indeed do they sometimes collude in cheating and why are they so reluctant to report cheating when it is discovered. In this presentation I will explore these issues and look at the dilemma posed by medical students, trainee doctors and Faculty who are academically and professionally dishonest.
Workshop: Assessing Professionalism: the greatest challenge
Currently medical professionalism is very much in the public and medical eye. The GMC, employers and medical schools have to address issues around the teaching and assessment of professionalism at all levels.
The aim of this workshop is to facilitate a better understanding of teaching and assessing professionalism in the undergraduate medical curriculum, although the general principles are applicable to the postgraduate area. As part of the workshop, we will develop an understanding of the issues of professionalism in medical students. Building on this we will look at the elements of professionalism that are desirable and how to develop a programme of assessment to ensure graduating doctors are aware of and committed to these values in their working lives. Finally will also look at the possibility of remediation of poor professional behaviour.